The Institut Pasteur in Paris, with the support of the World Health Organization (WHO), the World Organization for Animal Health (OIE), and the Health Sciences eTraining Foundation (HSeT), in collaboration with the Food and Agriculture Organization (FAO) and the Global Alliance for Rabies Control (GARC), to organize 11-day workshops in Dakar, Senegal in 2013, in Phnom Penh, Cambodia, 2015, Yaoundé, Cameroon in 2016, Iran in 2017 and Morocco in 2019.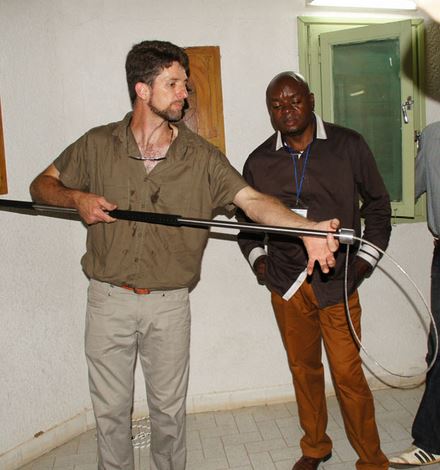 During a dog vaccination campaign, different systems are used to control the dogs: nets, control poles and leads. Here Dr.Daniel Stewart from South Africa makes a demonstration on how to use the control poles.
Workshops
The Rabies Virus  website is password protected and its access is restricted to trainees that have registered for  the training workshops on the surveillance and control of rabies.
Two to four months before any workshops, both training and learning activities, as well as online content are offered in order to prepare the trainees for the face to face workshop.
To be accepted the trainees have to fill an application form, submit it and wait for a reply from the organizers that will provide an institution code to register
For mo details, click here
The aims
Provide a practical training on rabies for students and professionals of animal and human public health sectors emphasizing the need of multidisciplinary approach and intersectorial cooperation. Workshops and course aim at:
Fill the knowledge and information gaps on emerging and re-emerging zoonoses such as rabies.
oImprove the knowledge on rabies epidemiological data in particular rabies incidence and the prophylaxis against rabies emphasizing practical solutions to increase access to post-exposure prophylaxis of the population.
Disseminate validated protocols for dog population control.
Discuss implementation of rabies control strategies worldwide.